Memory Testers

RAMCHECK Line
RAMCHECK PLUS
RAMCHECK
RAMCHECK DDR
RAMCHECK Adapters
PC Communication
Product FAQ
SIMCHECK II Line
SIMCHECK II LT PLUS
Refurbished LT PLUS
SIMCHECK II Adapters

Original SIMCHECK Tester
---
Which System Is For Me?
Why Buy From Us?
Why Test Memory?
Int'l Distributors
How to Purchase
Free Newsletter
---
Tech Support
Service & Upgrades
Manuals
Software Downloads
FAQ
---
Site Map
Home
Contact us at
(281) 879-6226
sales@innoventions.com
About SDRAM Memory

The most common PC memory from 1996-2002 was SDRAM (Synchronous Dynamic Random-Access Memory). Its speed rating is given in MHz, allowing the user to easily compare it to the system board's bus speed. SDRAM synchronizes its input/output signals with the incoming clock that's used in the system board. This allows data transactions to take place continually, with each successive "rising edge" of the clock. This clock is used as the primary determining factor for memory data operation, as explained in the diagram below. The memory array is composed of two separate banks that may be accessed independently.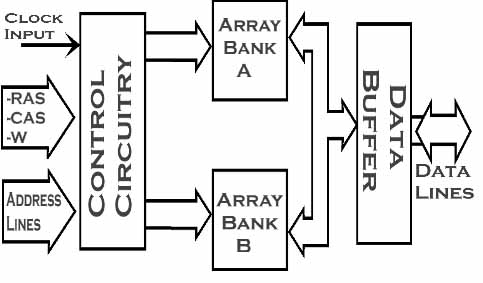 A "wait state" must occur before the information acquired from the memory module can be used by the CPU, due to today's high-speed processors. The CPU must essentially remain idle, halting operations, while the memory and other system components in the board "catch up" to its operation.

The SDRAM components were fast in comparison to past technology, but they do not come close to reaching the processor speeds available today. SDRAM is now being quickly supplanted by DDR.