RAMCHECK PLUS Memory Tester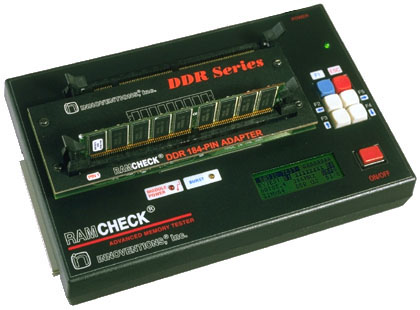 (RAMCHECK is obsolete and has been superseded by the RAMCHECK LX.)

The RAMCHECK PLUS (p/n INN-8668-PLUS) is our fourth generation computer memory test system that combines the popular RAMCHECK base memory tester and the powerful DDR 184-pin Adapter in one affordable package. RAMCHECK Plus provides the ultimate affordable solution to identify and test all popular memory modules, including PC2700/2100/1600 DDR (also known as DDR333/266/200) and PC166/150/133/100/66 SDRAM, EDO and FPM. With optional adapters, RAMCHECK Plus also tests and identifies SIMMs, SODIMMs and even chips. (Note: To test DDR2, you will also need the RAMCHECK 240-pin DDR2 Adapter.)
For at-speed testing modules faster than PC333, including PC3200/DDR400 modules, you will need the new RAMCHECK Plus Pro tester. RAMCHECK Plus will test PC400 modules, but at 333 MHz. Current users of the RAMCHECK Plus can have their existing DDR adapter factory-converted to the RAMCHECK DDR Pro level for a substantial savings.
The RAMCHECK Plus memory tester is portable and very user-friendly -- just turn it on, insert your memory module, and press a button to begin the test. No complex setup is required! Setup for user-defined tests and parameters for advanced users is also available.

Upgrading RAMCHECK Plus is easy, with free firmware upgrades that you can easily download in just seconds. A PC communication program is even included that allows you to print and log your test results, and save/edit/program SPD data.
Click here to download the RAMCHECK Plus brochure (PDF format, 275k).
All of the features and benefits of the RAMCHECK base tester and the DDR 184-pin Adapter are included in the RAMCHECK PLUS package. All of the optional adapters for RAMCHECK can be used with the RAMCHECK PLUS.

Don't let RAMCHECK Plus' small size deceive you! This tester is fully loaded with state-of-the-art electronic circuitry.

Please click here to receive our price list.

The RAMCHECK PLUS package includes:

| | |
| --- | --- |
| · | RAMCHECK p/n INN-8668 |
| · | RAMCHECK DDR 184-pin Adapter p/n INN-8668-6 |
| · | A Universal 240/100VAC Switching Power Supply |
| · | A Serial Cable |
| · | CD Companion (Includes detailed RAMCHECK Manual & PC Programs) |
| · | 50-page Printed Manual and Carrying Case |
| · | Includes Limited 1-Year Warranty. |


You're in good company with RAMCHECK! INNOVENTIONS is the creator of the original SIMCHECK, the world's most popular memory tester. Over the past 15 years, thousands of companies around the world, including most Fortune 500 companies, have come to rely on our memory test equipment.

The RAMCHECK base unit will also accept the new RAMCHECK 240-pin DDR II adapter.

When ordering, please reference part number INN-8668-PLUS.
RAMCHECK Plus and its optional adapters test:

| | |
| --- | --- |
| | DDR |
| | 168-pin SDRAM |
| | SIMM modules |
| | SO-DIMM modules |
| | EDO/FPM modules |
| | Chips |
| | More |