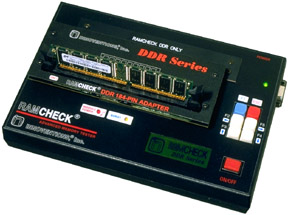 RAMCHECK® DDR - Affordable RAM test for 184-pin DDR memory
(RAMCHECK is obsolete and has been superseded by the RAMCHECK LX.)

(NOTE: The original PC333 DDR adapter (p/n INN-8668-6) has been replaced by the high-speed DDR Pro adapter. RAMCHECK users with this older adapter can upgrade to the high-speed DDR1 adapter for a fraction of the price. Please click here for details.)
RAMCHECK DDR provides a cost-effective way to test DDR modules. It's the perfect entry-level DDR tester for small shops or memory manufacturers requiring numerous standalone testers, or for SIMCHECK II Plus users who would prefer to keep their existing tester rather than converting it to the RAMCHECK level.
RAMCHECK DDR (p/n INN-8668DDR) provides low-cost DDR memory testing for 184-pin PC2700/2100/1600 DDR (DDR333/266/200), including Unbuffered and Registered DDR modules. RAMCHECK DDR combines a modified RAMCHECK base unit and the DDR 184-Pin Adapter. For at-speed testing modules faster than PC333, including PC3200/DDR400 (and faster) modules, you will need the new RAMCHECK DDR Pro tester. The RAMCHECK DDR tester also works with the RAMCHECK DDR2 Adapter.

Click here to download our online brochure(PDF format, 275k).
RAMCHECK DDR supports the 200-pin S.O. DIMM DDR adapter. It does not support the 66-pin TSOP DDR Chip converter, which requires DDR Pro, nor does it support RAMCHECK adapters for older SDRAM or FPM/EDO memory formats.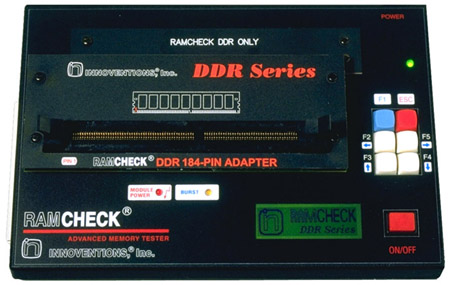 Current users of the RAMCHECK DDR tester can have their existing tester factory-converted to the RAMCHECK DDR Pro level for a substantial savings.

To order, call INNOVENTIONS at 1-281-879-6226, or click here to receive our current price list. When ordering, please reference part number INN-8668DDR.
RAMCHECK DDR MANUAL ADDENDUM
Please click the following link to review the DDR adapter Manual Addendum.