SIMCHECK MODULE HANDLERS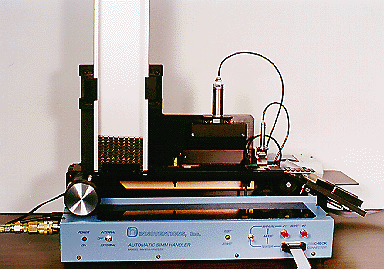 The SIMCHECK MODULE HANDLER solves the needs of the high volume memory module manufacturer. Like the SIMCHECK memory tester, the HANDLER is priced at a fraction of the cost of other device handlers in the market. It is capable of automatically testing up to 100 modules which are placed inside a vertical input tray. After undergoing a SIMCHECK test procedure, the modules are then sorted into two piles: one having the good modules, the other having the bad modules. Using SIMCHECK's TEST SETUP capabilities, you can sort the modules based on varieties of parameters and not just according to good/bad modules (e.g. only modules that meet specific size and speed requirements will be sorted as good).
SIMCHECK is placed on a tray on the back of the HANDLER. Connected to the SIMCHECK expansion slot is an interface module used specifically for this testing procedure. This interface unit is further connected to the HANDLER and provides the SORT GOOD/SORT BAD operation for the modules. The modules to be tested are placed in a vertical tray.
Absolutely no supervision is required once the HANDLER is initiated. It automatically starts the test when a module is placed in the test position. At the end of the SIMCHECK test, the HANDLER receives the test results - either SORT GOOD or SORT BAD. If SORT GOOD is activated, the test module travels to the good module pile. If the SORT BAD was determined by SIMCHECK, it causes the module to travel to the bad module pile.
The HANDLER uses both the AC lines and an air pressure system at the production floor. The AC lines power the motor for the movement of the modules and also supply current to the control circuitry. The air pressure system activates both the module contact system and the power relay for diverting the test modules to the right sorting piles.
There are currently two versions of the SIMCHECK MODULE HANDLER in production and one version under development:
p/n INN-818-HANDLER (shown in picture above) for testing the 30-pin, 0.100" pitch SIMMs.
p/n INN-828-HANDLER for testing the 72-pin, 0.050" pitch SIMMs.
p/n INN-838-HANDLER (under development ) for testing 168-pin SDRAM DIMMs.
The HANDLER comes with a COMPLETE INSTRUCTION MANUAL and a precision tool kit with which the customer can set up for operation.
Please contact us for more information.