Classic RAMCHECK... A PIECE OF HISTORY
The original RAMCHECK was invented in 1987 by David Feinstein as an affordable tool for PC technicians who were tired of using the PC encrypted memory error codes to detect bad chips. The Classic RAMCHECK was in production during 1987-1990 and it pioneered the field of portable memory testers. The unit was based on an Intel 8088 processor, with a unique power down mode between tests. It was capable of testing 64K and 256K chips, and later it came with optional adapters for testing 1Meg chips and for determining the Access Time. Currently, we have revived the 'RAMCHECK' name with the new RAMCHECK that has far more advanced features for today's and tomorrow's needs.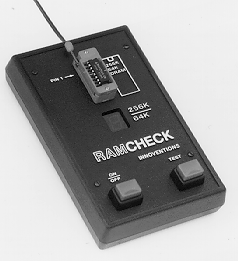 Even at the time of this writing, we occasionally hear from happy customers who still use their Classic RAMCHECK to test "ancient" chips.