---

---
MAC IIfx ADAPTER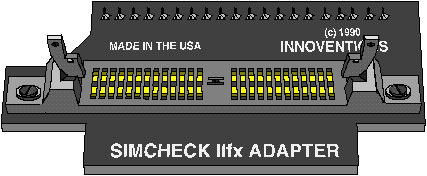 The APPLE MAC IIfx ADAPTER enables SIMCHECK to test the 1Mx8, 4Mx8, and the new 16Mx8 modules used by the Macintosh IIfx computer (and other APPLE products). The connector portion of these modules has 64 contacts spaced at 0.050" (1.27 mm) with an arched gap in the middle, and they are typically made of eight DRAM chips. Some of the new 16Mx8 modules may use 32 4Mx1 DRAM chips plus some logic ICs.
OPERATION
Connect the adapter to your SIMCHECK SIP ZIF (green) socket when SIMCHECK is either ON or OFF.
Insert the 64-pin module into the SIMM ZIF socket of the adapter just like the standard 30-pin module. The socket will accept the module only in the correct orientation.
CAUTION: This device uses an expensive, state of the art SIMM Socket, which is designed for easy insertion and removal of the tested modules. Do not use excessive force to insert the modules as you may break the insertion pins on the socket's levers.
Once the IIfx module is inserted, press F1 to start the test. The test is exactly the same as our regular 30-pin module test.
Required EPROM Version: 1.23 or above.
---

Back To Home Page