---

---
40-PIN MODULE ADAPTER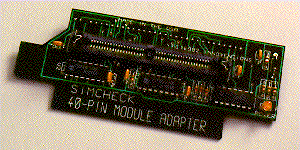 The 40-PIN MODULE ADAPTER is designed to test the high density 40- pin modules with capacities of 256Kx16, 512Kx16, 1Mx16, and 2Mx16. These modules are configured as x16 bits and they typically include 4 or 8 x4 DRAM chips. Due to their small size, these new JEDEC standard modules are becoming popular in laptop computers made by various brand name manufacturers like IBM and AST. They are also used by application specific computers like the Alacrity Desktop Document Manager System.
OPERATION
Connect the adapter to your SIMCHECK SIP ZIF (green) socket when SIMCHECK is either ON or OFF.
Insert the 40-pin module into the high density SIMM socket, so that pin 1 of the module is to your left. The socket will accept the module only in the correct orientation. To avoid premature wearing of the test socket, NEVER use excessive force when inserting the modules, and make sure that the module's contact area is CLEAN.
Once the 40-pin module is inserted, press F1 to start the test. It proceeds along our BASIC, EXTENSIVE, and AUTO-LOOP tests in accordance with our regular module tests.
Test in progress (TIP) animation is different than the regular module test. During BASIC test (and similar test sections in the EXTENSIVE test), instead of the "hour glass" display, there are 1 to 4 rotating "timer" elements corresponding to the module size. A 256Kx16 module will display one "timer" element. A 512Kx16 module will display two elements, a 1Mx16 will display three elements, and a 2Mx16 will display four elements.
The 40-pin module is composed of 16 bits arranged in two bytes of 8 bits each. Depending on its size, the module may have either one or two banks.
Required EPROM Version: 1.59 or above.
---

Back To Home Page