Fast, reliable memory testing for DDR4 Server and Desktop DIMMs
NOTE: This page discloses preliminary information that is subject to change.
The RAMCHECK LX DDR4 DIMM Adapter (p/n INN-8686-18) supports testing of 288-pin DDR4 modules, including unbuffered (UDIMM), load-reduced (LR-DIMM) and registered modules (RDIMM), both ECC and non-ECC, that comply with JEDEC standards. It consists of the DDR4 Series adapter and 288-pin test socket board.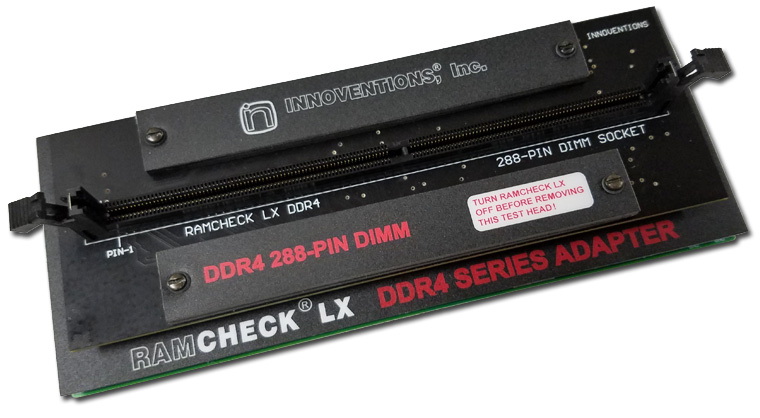 The DDR4 adapter plugs into the existing RAMCHECK LX base tester. This makes the DDR4 adapter by far the most cost-effective solution for testing modern high-speed DDR4 modules. In fact, its features are what you would expect to find in test equipment that costs thousands of dollars more.
NOTE: The DDR4 Series adapter will not work with the older RAMCHECK base tester p/n INN-8668. However, we do offer a low-cost factory conversion for RAMCHECK to RAMCHECK LX, so your investment in the older RAMCHECK is not obsolete.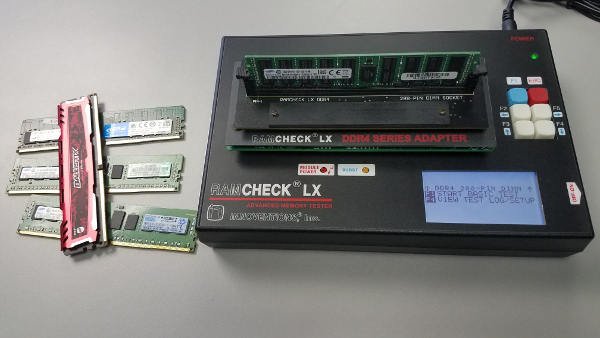 Don't let the adapter's small size fool you! High speed operations require short connections, while the adapter is loaded with state-of-the-art electronic components.
No special setup is required. As with all of our products, the adapter is extraordinarily simple to use. Insert the adapter, turn the RAMCHECK LX tester on, place a module into the test socket, then press the start button.
Please send me more info
Our team will contact you as soon as possible.
The new DDR4 288-pin Socket Board (p/n INN-8686-18-1) is included with every order of the DDR4 Series adapter. It features a high-quality production socket, not the very rugged ZIF socket. When the socket becomes worn out, the user can buy a low cost replacement socket board, or return the socket board to the factory for socket replacement. Each Socket Board may be sent for factory socket replacement three times before the board itself becomes worn out. Discounted 3-packs are available at a reduced cost.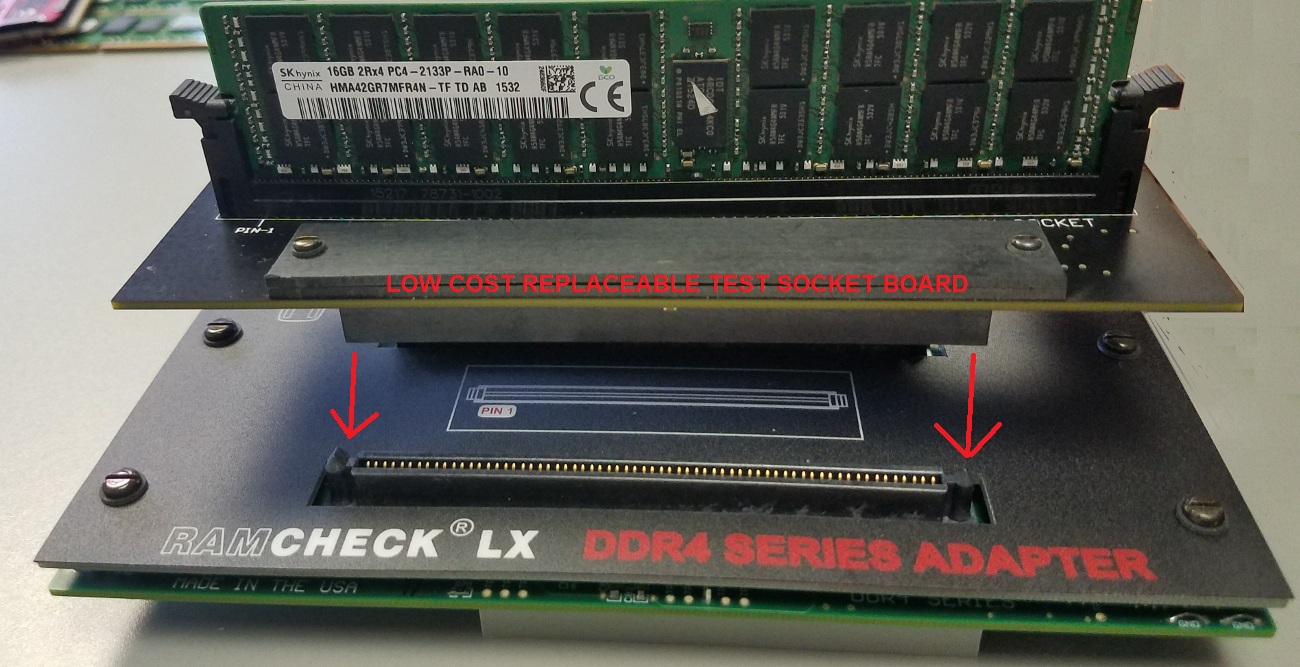 DDR4 Series Adapter
The RAMCHECK LX DDR4 Series adapter includes many new features which are relevant to the major differences between DDR4 technology and the older DDR3/2/1 technology.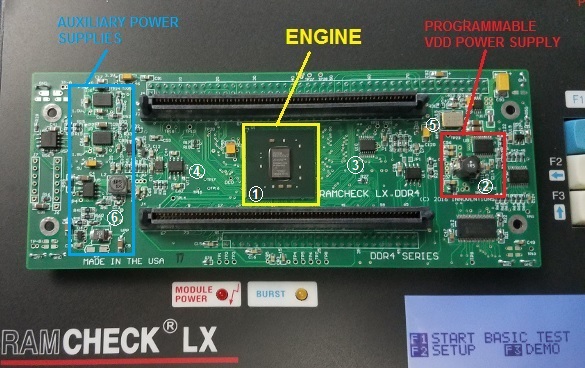 | | |
| --- | --- |
| 1. | Main engine featuring our improved 1600MHz test engine. |
| 2. | High efficiency switching power regulator to generate the DDR4 VDD at digitally-controlled high resolution. Significantly higher current consumption is supported compared to our previous DDR3 adapter. |
| 3. | Advanced analog section for measuring the module's current, voltages and the board's temperature. |
| | |
| --- | --- |
| 4. | Digitally-controlled Vtt and Vref regulators. |
| 5. | 1333MHz-1600MHz DDR4 clock generator. |
| 6. | Auxiliary power supplies provide highly-efficient voltage sources for the engine and for VPP and VDDSPD. |
As with all of our other RAMCHECK LX adapters, each module's size, structure, and type are automatically detected, without the need for user's setup. The test flow follows our standard Basic Test, Extensive Test, and Auto-Loop process. The RAMCHECK LX DDR4 Series adapter is very simple to operate, with little training required.
DDR4 Frequency Support
The RAMCHECK LX DDR4 Series adapter can perform DDR4 tests at actual test frequencies up to 1600MHz. All DDR4 Modules designed for higher frequencies (DDR4-3200, DDR4-2666, DDR4-2400, DDR4-2133 and DDR4-1866) can be functionally tested on the DDR4 Series adapter but at a reduced frequency.
DDR4 Series will be available soon
The new DDR4 SERIES is currently in advanced beta / pilot production stage. This product will be available for purchase in Q1 2018.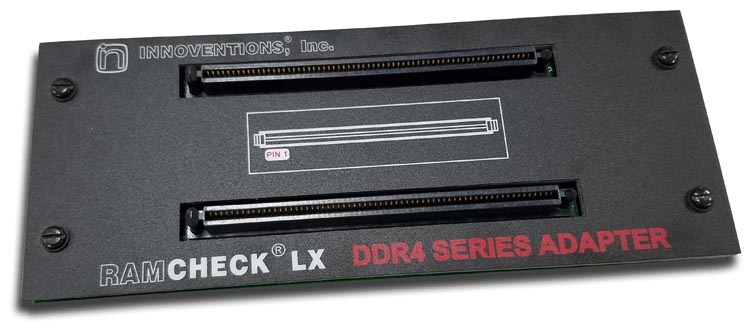 This picture shows the DDR4 Series adapter without the test socket board. The connectors for the socket board are designed to last for 2000 cycles, allowing multiple replacement of socket boards.

We are developing additional test socket boards for the DDR4 series:
DDR4 260-pin SODIMM socket board, p/n INN-8686-18-2.
DDR4 288-pin MINI DIMM socket board, p/n INN-8686-18-3.
Note: The DDR4 Series adapter only works with the RAMCHECK LX. It does not work with our prior-generation RAMCHECK base tester. If you own the older RAMCHECK tester, please contact us for conversion or trade-in offers, or call INNOVENTIONS at 1 (281) 879-6226. When ordering, please reference part number INN-8686-18.