Memory Testers
RAMCHECK LX DDR3/2
RAMCHECK LX DDR3
RAMCHECK LX DDR2
RAMCHECK LX DDR1
RAMCHECK LX Base Tester
---
Tech Support
Introduction
Manuals
Software Downloads
FAQ
Calibration & Upgrades
RAMCHECK Upgrade to RAMCHECK LX
Application Notes
Development Logs
Service & RMA Policy
---
News Releases
Links
Site Map
Home
Contact us at
(281) 879-6226
sales@innoventions.com
RAMCHECK SPD Programmer
RAMCHECK and its companion software provide you with powerful tools for complete SPD management, including SPD programming, SPD viewing, SPD editing, and file saving/retrieving.

RAMCHECK incorporates a simple 256-byte buffer which is used to read the SPD from a "master" module. The data in the buffer can then be used to program other modules. You can access the SPD Management Mode (on your RAMCHECK) from Standby mode by pressing F4 and selecting F3 for SPD MANAGEMENT. RAMCHECK then provides you with a straight forward menu with the following selections:
F1=READ SPD - reads the contents of the SPD on the tested module into RAMCHECK's internal buffer.
F2=VIEW SPD BUFFER - allows you to view RAMCHECK's SPD buffer on RAMCHECK itself, however you would prefer to use your PC for viewing and editing as discussed below.
F3=PROGRAM - Programs the SPD on the tested module with the contents of the SPD buffer. Please note that in order to program the SPD, the SPD programming option in the RAMCHECK Setup mode should be enabled.
F4=VERIFY - this function verifies your programming by comparing the SPD of the programmed module the SPD of RAMCHECK's buffer.
The RAMCHECK Communications program significantly enhances your SPD support: It allows you to read (upload) RAMCHECK's SPD buffer onto the PC.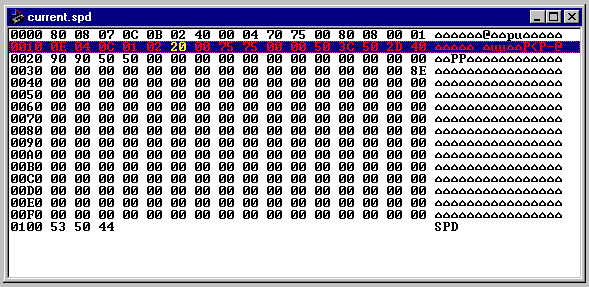 It provides an advanced SPD Hex Editor with which you can change or print the SPD data. It also provides unlimited filing on your PC hard disk for all your SPD files. The new SPD Text Editor and SPD Wizard utilities further simplify SPD editing.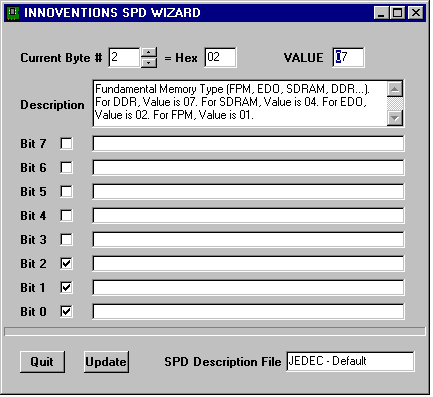 You can download your edited SPD or stored SPD files back onto RAMCHECK for subsequent programming of your modules.
You should review our SPD Management manual addendum for further reference.
RAMCHECK Setup
You can setup RAMCHECK on your PC and store setup parameters in *.rsu (RAMCHECK SetUp) files. Once you finish selecting the setup options, click the transfer button to send them to RAMCHECK where they are automatically saved.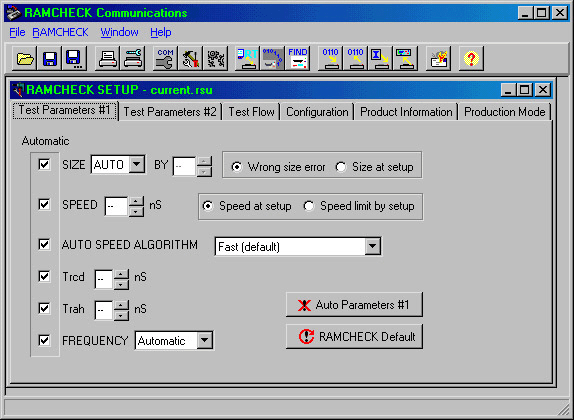 The setup screen uses a multipage dialog. The following pages are available:
Parameters #1- Used for setting up size, speed, frequency, and other timing parameters.
Parameters #2- Used for setting Voltage, Mode, Refresh, Test Patterns, and some special setup codes.
Test Flow - Used for determining RAMCHECK's test flow.
Configuration - Used for setting RAMCHECK's configuration. Also used to setup SPD programming.
Product Information - Includes "read only" information, including calibration data. This page also includes a setup file memo that you can append to a saved setup file on the PC.
Production Mode - Recommended for memory manufactures only. This mode allows you to program the SPD of your memory modules after the completion of Basic Test, or after the Extensive Test.
Once the new setup is transferred, RAMCHECK will respond with a message indicating that the new setup data has been saved in the RAMCHECK non-volatile setup memory. RAMCHECK will not save unchanged setup data.