Memory Testers
RAMCHECK LX DDR3/2
RAMCHECK LX DDR3
RAMCHECK LX DDR2
RAMCHECK LX DDR1
RAMCHECK LX Base Tester
---
Tech Support
Introduction
Manuals
Software Downloads
FAQ
Calibration & Upgrades
RAMCHECK Upgrade to RAMCHECK LX
Application Notes
Development Logs
Service & RMA Policy
---
News Releases
Links
Site Map
Home
Contact us at
(281) 879-6226
sales@innoventions.com

---
Recommended Cooling Arrangement for DDR3 and DDR2 Adapters
INN-8668-APN38
--Created 05-10-13

The RAMCHECK and RAMCHECK LX equipment should be operated in a well ventilated area. We use modern switching power supplies and thermal conducting pads that reduce the heat generated by the test engines for the DDR3 and DDR2 adapters. However, we strongly recommend that customers with high work load use a small, low cost fan on the side of the tester to reduce the thermal wear and tear.

The DDR3 and DDR2 adapters generate high heat around the main integrated chip at the center of the adapter. When placing a small fan on the left or the right side of the equipment, you'll achieve a good air flow which is able to penetrate the adapter and flow around the heat generating chip. The following images illustrate the recommended cooling arrangement: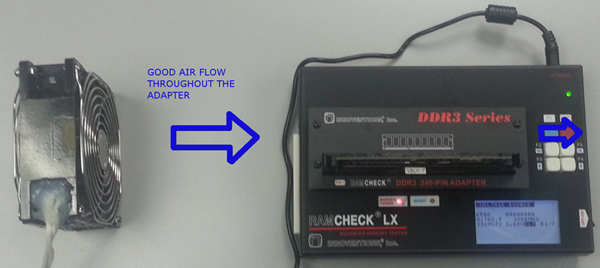 You can use any small commercially available fan for this purpose.

Note: Cooling from the top side, as illustrated in the following image, is not effective because the adapter's top main connector BLOCKS the air flow from the heat generating main integrated circuit: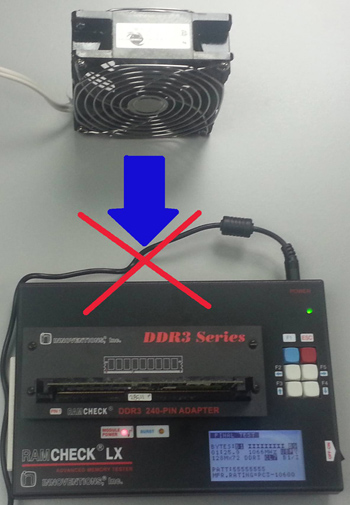 CONTACTING OUR TECHNICAL SUPPORT DEPARTMENT
For more information, please call us at (281) 879-6226 M-F 9:00-5:00 US Central Time, or send your e-mail to support@innoventions.com, or fax your message to (281) 879-6415. Please remember to include your phone and e-mail.