Memory Tester Products
RAMCHECK Line
RAMCHECK PLUS
RAMCHECK DDR
RAMCHECK

RAMCHECK Adapters
PC Communication
PRODUCT FAQ
SIMCHECK II Line
SIMCHECK II LT PLUS
Refurbished LT PLUS
SIMCHECK II Adapters
---
Which System Is For Me?

Why Buy From Us?
Why Test Memory?
Int'l Distributors
How to Purchase
Free Newsletter
---
Tech Support
Service & Upgrades
Manuals
Software Downloads
FAQ
---
Site Map
Home
Contact us at
(281) 879-6226
sales@innoventions.com

Advance information*
DDR Pro High-Speed Tester

Introducing DDR Pro, the latest advanced test adapter for RAMCHECK. This new high-speed DDR test adapter features advanced circuitry and a powerful high-frequency test engine, allowing you to fully test and identify PC433/466 DDR modules, with planned upgrades to 533MHz.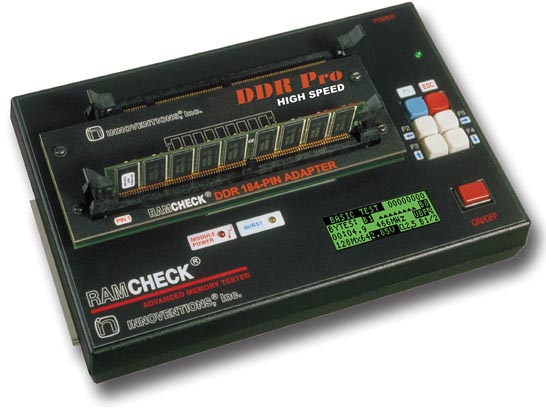 The new DDR Pro adapter plugs into the existing RAMCHECK base tester. This makes DDR Pro by far the most cost-effective solution for testing high-speed DDR modules. In fact, DDR Pro's features are what you would expect to find in test equipment that costs $20,000 or more.



DDR Pro Advanced Technology


| | |
| --- | --- |
| 1. | State-of-the-art XILINX Virtex II Pro controller featuring our improved high-speed DDR test engine. |
| 2. | Vtt generator for true STTL-2 testing. |
| 3. | Advanced analog section for measuring module's current, voltages and the board's temperature. |

| | |
| --- | --- |
| 4. | Digitally-controlled high resolution VDD regulator. |
| 5. | 200-533MHz DDR clock generator. |
| | |

As with all of our RAMCHECK testers, each module's size, structure, and type are automatically detected, without the need for user's setup. Test flow of the DDR modules follows our standard Basic Test, Extensive Test, and Auto-Loop process. DDR Pro is very simple to operate, with little training or setup required.

The DDR Pro also supports the RAMCHECK 200-pin S.O. DIMM DDR converter and the 66-pin TSOP DDR Chip Tester.



DDR Pro Features
Supports Burst Length of 2, 4, and 8.
Supports CAS LATENCY of 2, 2.5, and 3.
DDR Data rates (preliminary list*): 533MHz, 500MHz, 466MHz, 433MHz, 400MHz, 333MHz, 260MHz, 200MHz.
True 2.5V testing with a wide support range of 3.1V to 2.0V at +/-50mV increments.
Improved current measurement circuitry.
Controlled Vtt for true STTL-2 compatibility.
Parallel testing capability of 64/72-bits.
Rugged, test-quality ZIF socket for covenient module handling.
Automatic detection and support for Registered/Unbuffered modules.
Automatic DQS8..0/DM8..0 or DQS17..0 support.
Four -S control lines for up to 4-rank devices.
Fourteen A13..0 address lines and three BA2..0 bank select address lines to support 4GB modules.
Complete SPD programming support.
Supports optional converter for 200-pin S.O. DIMM modules (p/n INN-8668-1) and future converters.

To order, call INNOVENTIONS at (281) 879-6226, or click here to receive a price list. Please reference: P/N INN-8668-9.

*Product operation and specifications are subject to change without prior notice.